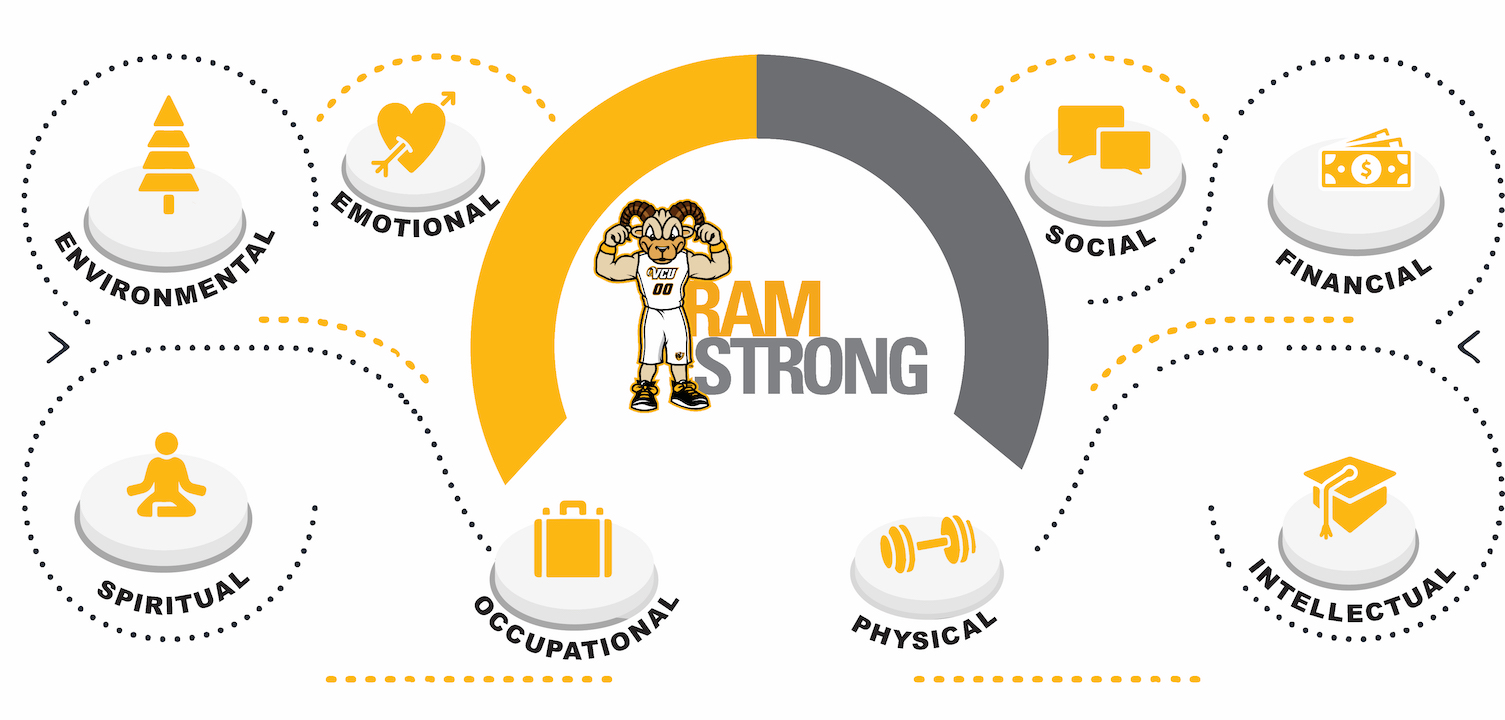 RamStrong is a collective health and well-being resource for the entire VCU community. Explore resources from the eight dimensions of well-being: physical, emotional, financial, occupational, intellectual, environmental, social and spiritual.
Most Requested Resources
⬥
Employee Resources
⬥
Student Resources
⬥

University Student Health
Services

University Student Health Services, a nationally accredited health care provider that offers primary care services to students, is located on both campuses. University Student Health Services also provides services such as immunizations for flu and COVID-19.
⬥

Employee Health

VCU Employee Health Services offers no-cost immunizations, including flu and COVID-19 vaccines, as well as clinical guidance and support with work-related and general health concerns, injuries or exposures. Flu shots are available M-F at West Hospital, 1st Floor West Wing, 1200 East Broad St. from 7:30 a.m. to 4 p.m. (walk-ins welcome). Call the Employee Health Hotline at (804) 628-2594 for COVID-19 or any work-related health concerns.
⬥

⬥

Current Health Advisory
(COVID-19)

Health advisories, including information about COVID-19 testing, vaccination, and supplies as well as new information on Monkeypox, now have a permanent home. Stay informed about public health recommendations for VCU and surrounding communities and connect with on-campus testing and vaccination resources.
⬥

⬥

TimelyCare

Students and employees can now get the emotional and mental health support they need wherever they are, whenever they need it. TimelyCare offers free, 24/7 access to virtual care, self-care, and well-being tools to help students and employees thrive.

⬥

Virtual and In-person
Mental/Emotional Resources

Faculty and staff who participate in the State Health Benefits Program can access virtual and/or in-person mental/emotional health resources through their provider. Later this fall, all employees, including those who do not participate in the State Health Benefits Program, will have access to 24/7 resources for mental/emotional health through TimelyCare.
⬥

Employee Benefits

Employees who are eligible for and take advantage of state health benefits coverage may be eligible to participate in programs including maternity care, well-being and lifestyle coaching, mental/emotional counseling and more.

⬥
University Counseling Services
The mission of University Counseling Services (UCS) is to create an environment that fosters student growth, development, and psychological well-being through direct clinical service, education, and prevention.
⬥

At-Risk for Faculty & Staff (Kognito)

VCU now offers an online conversation simulation, At-Risk for Faculty & Staff, to help faculty and staff learn to notice signs of distress, use techniques to discuss concerns, and, if necessary, refer students to appropriate resources. At-Risk for Faculty & Staff lets you practice these challenging conversations at your own pace.
⬥

⬥

Recreation and Well-being

VCU Recreation and Well-being (RecWell) advances student success by empowering the VCU community to prioritize well-being, connect with others, and learn through play.